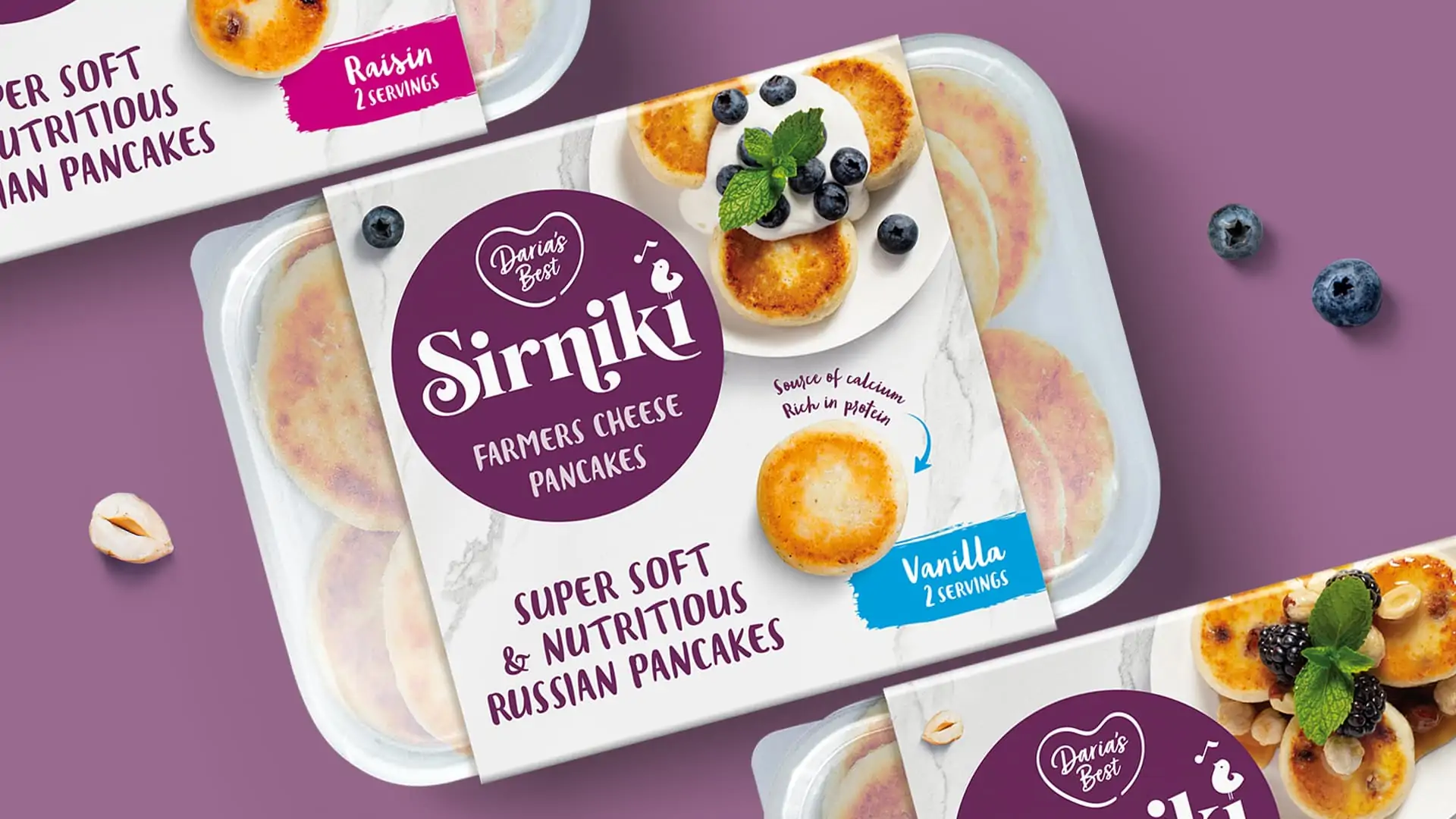 Darias Best Sirniki – Branding and packaging design.
The Brief.
Slice Design were tasked with creating the packaging design for Daria's Best, a new brand introducing traditional Sirniki to the UK market. Siriniki are traditional, beloved Russian cottage cheese pancakes that can be eaten any time of day with a variety of condiments. Our brief was to introduce these new, unique pancakes to the UK market whilst in keeping with the products traditional heritage, clearly communicate what Sirniki was and promote the benefits of this adored product.
Branding / Packaging Design /
Our Approach.
Based on a creative positioning of 'Bring positive energy to your table' we created packaging design for Daria's Best that exudes appetite appeal and highlights the positive nutritional benefits of the pancakes. It was key that the packaging design educated the UK market on exactly what the product was and this was achieved through large, mouth watering product photography and bold descriptors on pack.
The Result.
Our packaging design was rolled out across 2 flavours and 3 different pack formats. The tones and colours selected reflect the high-quality ingredients sourced from around the world and perfected cooking techniques of Daria's Best. Our packaging incorporates a table top background that symbolises the positivity Daria's Best Sirniki will bring to your table whilst encouraging you to share this delicious treat with friends or family. Whatever time of day, whatever condiment you choose, Daria's Best is there to make you feel good!
What The Client Said.
"It's been an exciting journey, and I like the product we've got at the end. Let's hope it'll fascinate the market!"
Daria Ilina– Director