A brand's logo is an integral part of any business so when you've made the decision to rebrand your logo, naturally you want people talking about it. However, what happens when all that chit chat about redesigns is negative?
Today we will be looking at 5 brands redesigns that caused very controversial opinions with the public when they revealed their new logo. All new logos are on the right.
You can't please everyone with redesigns!
1. Uber redesigns logo
First up is Uber who released their new logo without their infamous "U."
Peoples main concerns were not being able to find the app quickly on their phone when flicking through pages of apps as it's no longer instantly recognisable.
In its press release regarding the update, Uber argued "Uber no longer moves just people; we're now moving food, goods, and soon maybe much more. With the potential for many apps with many app icons, we needed one approach that connected them all. So we came back to our story of bits and atoms."
However, it's not all negative. One of our team members here are Slice thoughts:
"I personally like the new logo. It's an abstract icon that pinpoints your destination – exactly what you want from Uber."
2. Airbnb redesigns logo
When Airbnb released their new logo in 2014, they took took some serious backlash from the public – with many commenting on the similarity to Automation Anywhere's logo. Others simply didn't understand what the symbol was meant to be with multiple memes created of other (ruder) meanings.
In their post regarding the update Airbnb state: "Belonging has always been a fundamental driver of humankind. So to represent that feeling, we've created a symbol for us as a community. It's an iconic mark for our windows, our doors, and our shared values. It's a symbol that, like us, can belong wherever it happens to be."
We at Slice are glad the old logo is gone. It reminded us of WordArt you chose for your year 8 homework!
3. BP redesigns logo
In 2000, BP undertook a $200m rebrand in an effort to showcase and highlight their green credentials to the public. The famous shield was replaced with a much friendlier and brighter flower shape.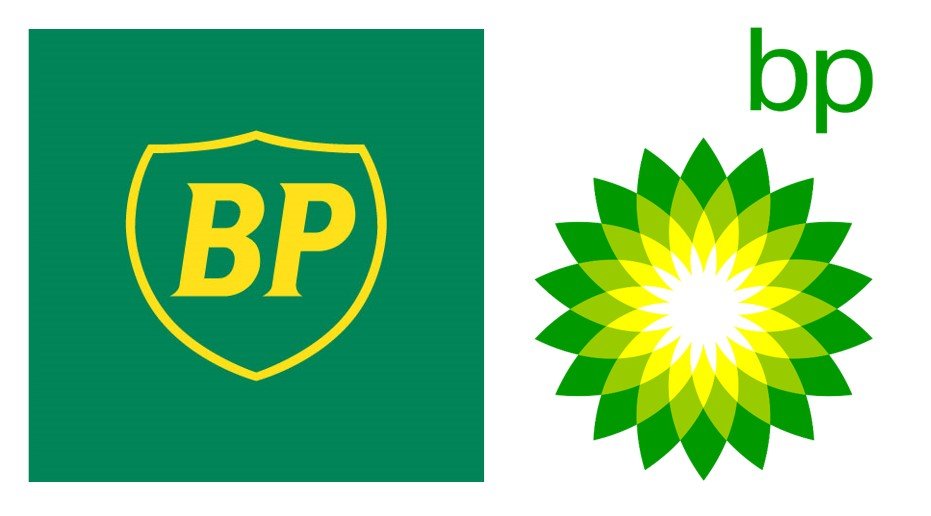 Unfortunately the new logo was met with numerous parodies – most famously Greenpeace who ran a competition for a more appropriate logo. Oh dear!
4. Gap redesigns logo
For 20 years, Gap's logo has been the unmistakable white writing in the blue box. In 2000, they decided to shake things up and release a brand new logo. The new logo received heavy criticism and complaints especially on social media. On Facebook in particular there were more than 2000 complaints demanding the old logo back. Whoops!
Gap listened..
Marka Hansen, president of Gap Brand North America posted this on the company website a week later.
"We've been listening to and watching all of the comments this past week. We heard them say over and over again they are passionate about our blue box logo, and they want it back.So we've made the decision to do just that – we will bring it back across all channels."
This may be one you missed as it was only out for 1 week!
5. London 2012 Olympics redesigns logo
Now, this isn't a redesign but it is a certainly still a logo that backfired. The London 2012 Olympics logo's aim was to tap into the youth market. Unfortunately, they hated it. A study reported 70% of 11- to 20-year-olds disliked the logo. 68% of respondents reported they "hated" the design, with more than half saying this was due to it not saying anything about London or the UK.
Rawsthorn on Instagram comments: "I felt then – and still feel now – that the 2012 logo was memorable for the wrong reasons, because it looked to garish with its clumsy typography and garish shapes"
How they handled the criticism?
Ije Nwokorie, managing director at Wolff Olins who designed the logo states: "Interestingly, the critical reviews tend to point out the rules we've broken, and in that sense they tend to be correct; the only disagreement is whether those rules need to be broken."
Based in London UK, Slice Design are a top international creative branding and packaging design agency that have helped consumer brands grow and get noticed since 2004. We like to think of ourselves as a challenger to the large agency. As the name suggests we cut through jargon with our flexible, no nonsense approach and down to earth attitude. You can see some of our recent packaging design work here.
What are your thoughts on the redesigns above? Do you think it's right they all received such heavy criticism. You have to hand it to Gap for listening to their customers and reverting back to the old logo. I can't imagine how painful that process must have been!